If you didn't get a chance to read Affirm's Quarterly Results (published last week), you should. Let me start you off with 5 points:
Affirm has 16.5M users in the US (added 2.5M in the past year)
BNPL transactions grew 30% year-over-year across all active users
Affirm has released its own debit card to its BNPL users
Affirm is adding 70,000 new activated debit cards per month
This trend line is not slowing
The momentum for Affirm is incredible. But it's detrimental for financial institutions across the United States. Have I got your attention? Let me explain.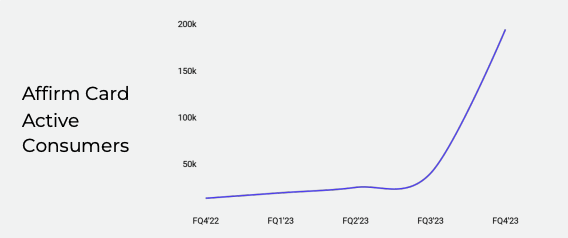 Why are consumers swapping their existing debit cards for Affirm's card?
Because here's what the Affirm card can do: allow customers to pay now (normal debit transactions), request to pay over time (pre-purchase installment loan), or select transactions within the app to pay over time (post purchase installment plans).
Here's a breakdown of Affirm Card transactions:
42% are standard debit card purchases (Affirm calls this "Pay Now")
7% are Pay in 4 plans
51% are Interest-bearing, installment plans
In other words, Affirm has combined purchase, payment, and budgeting into one card and one app. Consumers are going to a debit card that gives them full control over planning their purchase, paying normally, or splitting their payments up after the purchase. The new Debit Card is a budgeting tool, and consumers are flocking to it.
APRs on BNPL plans are up, and delinquencies continue to go down.
Don't get jaded too early on the bearish reports on BNPL in the news. Affirm (and other third-party BNPL providers) have been able to shift their business models rapidly in the current macro environment. They've continued to implement their new APR caps, with 70% of interest-bearing installment plans at up to 36% APR in July 2023.
Yet even as Affirm's BNPL interest rates increase, loans continue to perform better compared to 2022 and pre-pandemic years. In fact, they are performing better than many major credit card issuers today, including Capital One, Discover, and Synchrony Financial.
So… yes, BNPL is an alternative to traditional credit products. And BNPL providers are able to adequately underwrite these installment plans.
Community banks and credit unions typically have lower APRs for consumer credit. If the 16,500,000 Affirm customers had access to lower rates from their existing trusted financial institution, wouldn't they prefer that?
Yes they would.
We have seen this first hand. A partner financial institution of equipifi who launched in 2023 saw their cardholders book more loans with their own BNPL than with Affirm and PayPal combined… in the first month of it becoming available in their digital banking app.
Cardholders had quick access to BNPL plans in their existing banking app, were able to use their existing debit card, didn't have to apply for an account, and were presented with better terms and fees compared to the alternatives.
That's a competitive product to the Affirm debit card.
But what about everyone else?
–
equipifi is a white-labeled BNPL provider for financial institutions, enabling debit card buy, now pay later delivered to consumers directly from their financial institutions digital banking suite.